HUX for motorcycle-trials....
---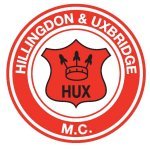 Welcome to the Hillingdon and Uxbridge Motor Club, known universally as HUX. The club was founded to facilitate and encourage participation in motorcycle trials for local enthusiasts. We currently run five or six trials per year. The club is affiliated to the A.C.U. and is part of the South Midland Centre.
Dates for all our trials can be found on the Fixtures page.
In addition we have a practise ground at Tilehouse Lane, Denham, where lots of free advice and information is exchanged on two Sunday mornings each month.
---
The Weather....
---
Helping out....
We always need help with running, observing and setting-out our trials. So if you are not competing, you could come along and help us.
Setting out gives you a chance to have a say in the way section are set-out. Observing lets you watch all the riders testing their skills, to clean the sections. All official observers at our trials get free hot or cold food and drink from the Burger Van.
You can find the dates of all our trials on the fixtures page.
---
Stop HS2....

---
Wheel Building...

For all your wheel building and repairing requirements, call HUX member, Dave Norris

---
Surrey Schoolboy Trials Club....
Surrey Schoolboy Trials Club is for boys and girls aged 4-21:


The club, which is affilliated to the A-CU, hosts 2 or 3 events each month (many on Saturdays) and has supervised practise sessions for beginners. Leave your children in the safe and capable hands of the club officials. Adults can also ride at SSTC events.
---
Surrey Youth Motorcycle Trials Sports Club....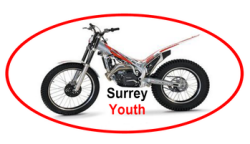 Surrey Youth runs trials for novice beginners at seed level, before grass roots, on the second Saturday of the month at 2.00 pm at Brackendene.

For more information go to sytc.online
---
Useful Links....
---
Social Media....


HUX is on Facebook,
search for HUXTrials or HUX Trials Practise Ground.
---
Denham Practise....
Practise is held on the 2nd & 4th Sunday each month.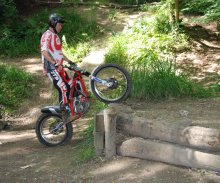 We have a practise ground in Denham. The entrance and car park is in Tilehouse Lane, opposite the runway.
Practise takes place every 2nd and 4th Sunday, each month, from 10:00am until 1:00pm. unless we are running a trial that day.

Our practise ground has its own Facebook page. Just search for "HUX Trials practise ground".
If you would like to use our practise ground you must join the club by downloading a form (see below) and posting it, with your remittance, to the address on the form. We no longer charge extra for using Denham, it is now part of your membership.
Or better still, renew online hux.sport80-clubs.com
It is not possible to join or renew membership of HUX at Denham. You must post the form to us, prior to visiting Denham.
---
Find our venues....
For an interactive, rescaleable map showing the location of all our venues CLICK HERE
---
Membership....
If you would like to join the club, you can download an application form by clicking this button:

Print a copy, send it to us then, when you have your membership card you can join us for a fun Sunday morning.
---
Member's Downloads....(forms & signs)

Use this link if you want forms and signs to run a Denham practise session.
---
ACU Licence Renewal....
If you would like to renew your ACU licence on-line, you can go to the correct webpage by clicking HERE
---
Environmental Information


This website
is made from 100%
recycled pixels
---